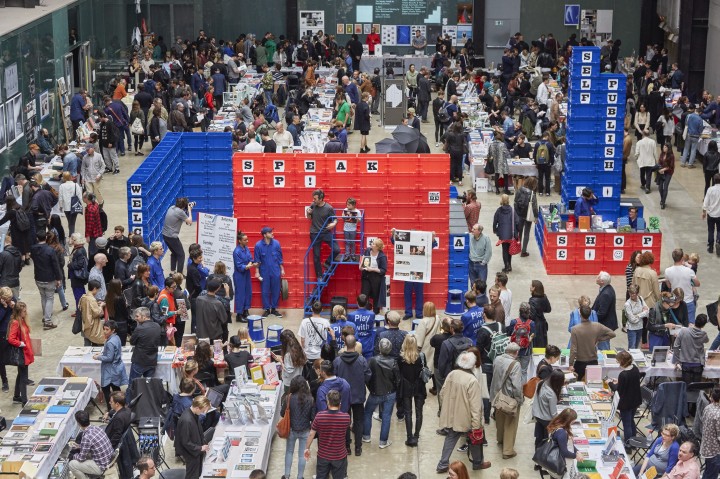 Self Publish, Be Happy celebrates its 5th birthday this year with a project space at the Tate Modern during Offprint London.
By using books to vitalise public interaction the SPBH project space will host numerous events involving exciting contemporary photographers.
The programme, curated by SPBH founder Bruno Ceschel, is a call to action. It aims to inspire visitors to make books by playing with different photographic and printing processes.
The project space hosts workshops, performances, a bookshop, and a screening room. There will also be a speaker corner, where visitors will have the opportunity to talk about the books they love.
Ana Varela and Philippe-Albert Lefebvre have designed the space, while Antonio de Luca has produced the graphic to capture the SPBH DIY ethos. The space is made entirely of readymade materials, with 300 plastic containers forming the walls; a fun and polyfunctional environment.
The SPBH space is kindly supported by Offprint London, Plastor Containers, David Solo, Nicholas Stanley and Tate.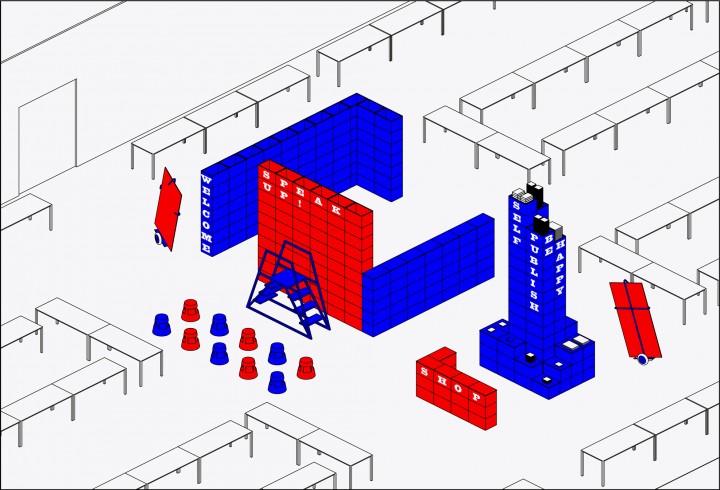 Friday 22 May
6 – 10pm
Fun Tattoo Parlour by Thomas Mailaender
In Mailaender's Fun Tattoo Parlor visitors can create their own temporary tattoo, wear them and become a movable exhibition. The picture used for the tattoo can be selected from Mailaender's archive of over 11,000 found internet images.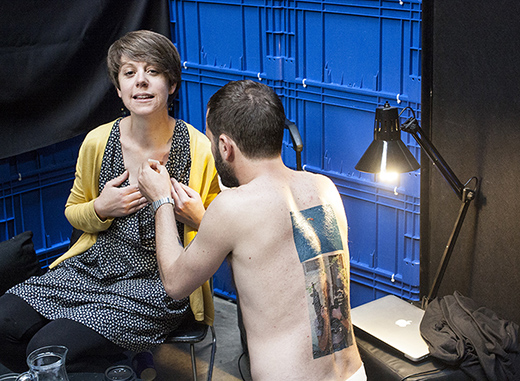 7 and 9pm
Speakers' Corner
Saturday 23 May
2 – 4pm
LOL by Dominic Hawgood
A laughter class run by Nat Tsolak, founder of School of Laughter and member of the British Psychological Society. Drawing from ideas about the therapeutic benefit of play in the book Playing & Reality by Donald Wincott, LOL will look at ways of letting go through group laughter and improvisational games. It then considers how these interactions can become a photograph.

4 – 5pm
Selfie Stick Aerobic by Arvida Byström and Maja Malou Lyse
Get creative with a selfie-stick tutorial during an aerobics class run by the artists Bystrom and Lyse. You can bring your own selfie-stick or use one of ours. There is a series of classes, with each lasting for 5-10 minutes.
After the class, send your pictures to us and we'll put them on our Tumblr.

5 – 8pm
Effect Twin by Daisuke Yokota & Hiroshi Takisawa
In a live performance the two acclaimed Japanese photographers Daisuke Yokota and Hiroshi Takizawah will produce 50 photobooks using experimental printing methods. Each artist will print photographs with different materials – Yokota with iron powder and Takizawah with cement – before drying and sewing them together.

3, 4 – 6pm
Speakers Corner
Sunday 24 May
1 – 4pm
Destroy Build Destroy by Maya Rochat + Ditto Press
Workshop given by Maya Rochat on « how to » create images through the process of destruction. We'll play around with the esthetic of accidents, add layers, chemicals, collages, analogic, digital, the attending participant are welcome to bring own photographic materials destined to be worked on. The more the better!
A riso machine will be installed with the objective of reassembling the visuals and create an A3 format book collecting the various experiments on photographic language.
Audience Participation: bring images or object that will be reproduced. bring stuff to destroy, and to be destroyed.

4 – 5pm
The Smoke House by Melinda Gibson
Gibson funnells levels of smoke into a polycarbonate glasshouse in which books dangle from strings inside.
Gibson suffered a fire at her south London studio in 2014. This is a ritualistic reclaiming of that experience. This performance visualises the sensorial elements of the 2014 fire – offering a cathartically-ordered experience.

5 – 6pm
Tectonic Crystal Healing by Johan Rosenmunthe
Tectonic Crystal Healing sits somewhere between a performance and a sculpture. Rosenmunthe uses stones and sound to engage members of the audience to create a source of healing powers.

1.30, 3 and 4pm
Speakers' Corner
Monday 25 May
1 – 4pm
Space Jam by COL ~ LATE
Visitors can contribute their photographs of the fair to a zine, and observe the making process.
This is an open call for photographs that document the fair in inventive ways. The images are then sent online via social media. The performance parts collates, live edits, prints and then sequences the images. The selections are then printed, folded and bound – forming a zine.

4 – 5pm
LDN EI Live hacking and building by Tony Cairns
Visitors are invited to have their disused Electronic Ink Tablets uploaded with Cairns' new self-published digital photobook LDN EI.The performance involves Cairns hacking into the software of old Kindles, either ones they have brought or Cairns' own, and uploading images onto them.

4 – 6pm
Surplus Surplus Limit by Jimmy Limit
Make your own Jimmy Limit photograph. Visitors will be asked to create work instead of the artist, literally receiving a set of instructions on how to make a Jimmy Limit still life with their camera phone.
These images will then be printed, first becoming an exhibition and later a publication.
The performance/game will offer an insight into the artist's practice. While questioning authorship and originality it also explores the relationship between sculpture and photography.
1.30, 3 and 4pm
Speakers' Corner