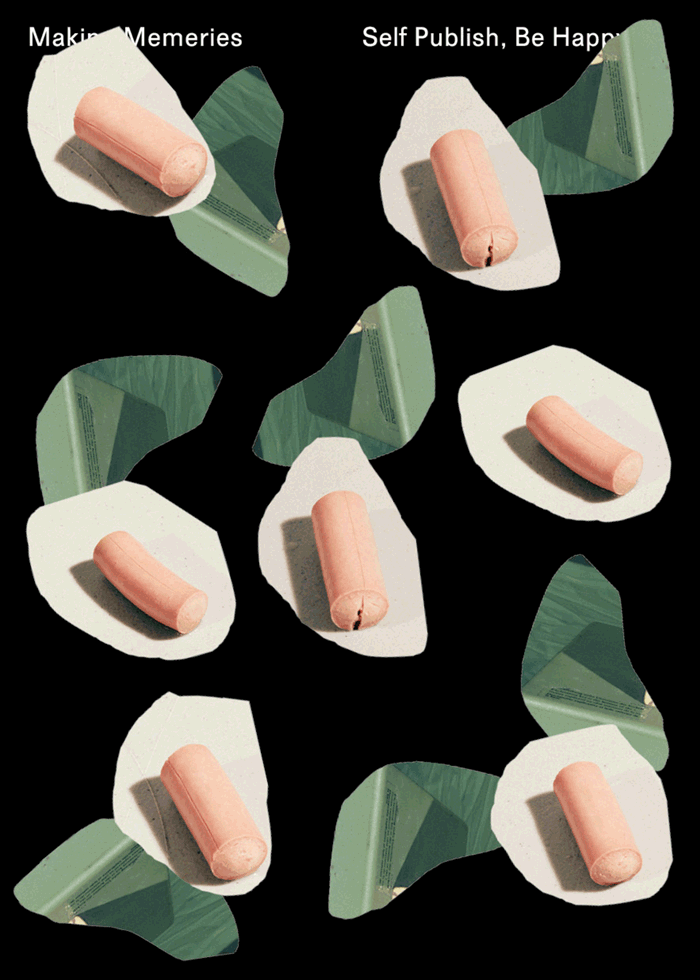 Self Publish, Be Happy presents MAKING MEMERIES
Participating artists: Lucas Blalock, Kenta Cobayashi & Yuuki Takada, Lalu Delbracio, ECAL / Jean-Vincent Simonet & Charlotte Krieger, Flat Fix, Felicity Hammond, Anouk Kruithof, Namsa Leuba & Kezia Frederick, OOMK, Naohiro Utagawa
Self Publish, Be Happy presents a programme of events that explore the blurring boundaries surrounding on/offline existence and distribution of photographs. The event, titled Making Memeries, will take place at Tate Modern during this year's Offprint London art book fair from 20-22 May.
Before the advent of the Internet the act of taking a photo was often intended to make memories; to store and preserve our past in still, printed images. In today's digital age the act of taking photos can be enough for the photograph-taker. The act is exhausted by the process.  This can be seen in the way a mobile phone camera offers immediate satisfaction — producing a file that may never be looked at again. Today a photo has a different claim to time, being much more in the "now" than in the "this has been" of its 19th and 20th century pre-internet forbearers. We, in turn, live in a culture of the perpetual present, in a meme-driven world where photos can effortlessly be shared, but where they most often disappear into digital oblivion.
How do contemporary photographers produce and operate in such an environment? How do they challenge it?
Fifteen international artists answer these questions in a series of workshops and performances at Making Memeries at Tate Modern. To provide answers they stretch and contextualize their photographic practices, making them suitable for consumption by a live audience, as well as online. The audience at the Tate Modern will be asked to play; to test their own experience and understanding of contemporary photographic language.
Free entry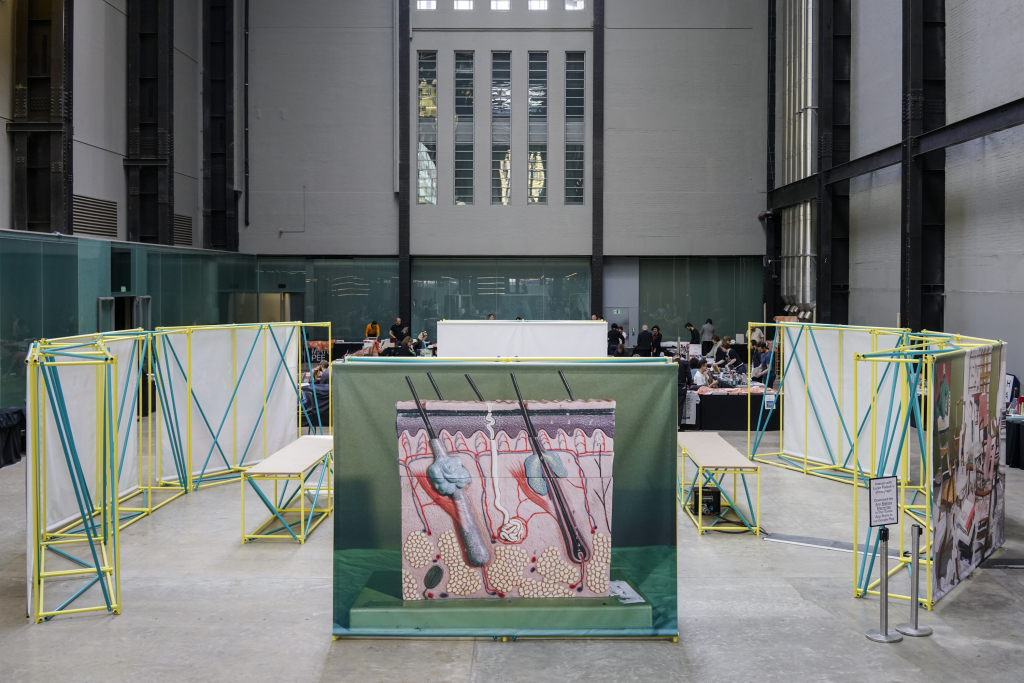 Making Memeries
An installation by Lucas Blalock
In collaboration with Reify and Tankboys
The event borrows its title from a new commission by US artist Lucas Blalock. Blalock has created an installation for Tate Modern's Turbine Hall that functions as a staging area for workshops and performances. The installation consists of a set of eight movable panels inspired by theatre scenery. Designed by Italian studio Tankboys the 'flats' display a new suite of photographs by Blalock. The elements of this installation can be activated via an app. This app can be downloaded onto visitors' mobile phone. The audience  will be able to immerse themselves in, and interact with, Blalock's photos via this app, which uses the phone's camera to produce a digitally augmented reality.
Blalock's work has long been interested in how the worldly and the virtual cohabit behind a photograph's surface. This project enables him to visualise this cohabitation on both sides of that plane. Blalock has collaborated with REIFY, an augmented reality (AR) creative studio, to build an exceptional experience that blurs traditional boundaries and challenges one's expectations of viewership.
HOURS AND LOCATION
Friday to Sunday, 20-22 May 2016