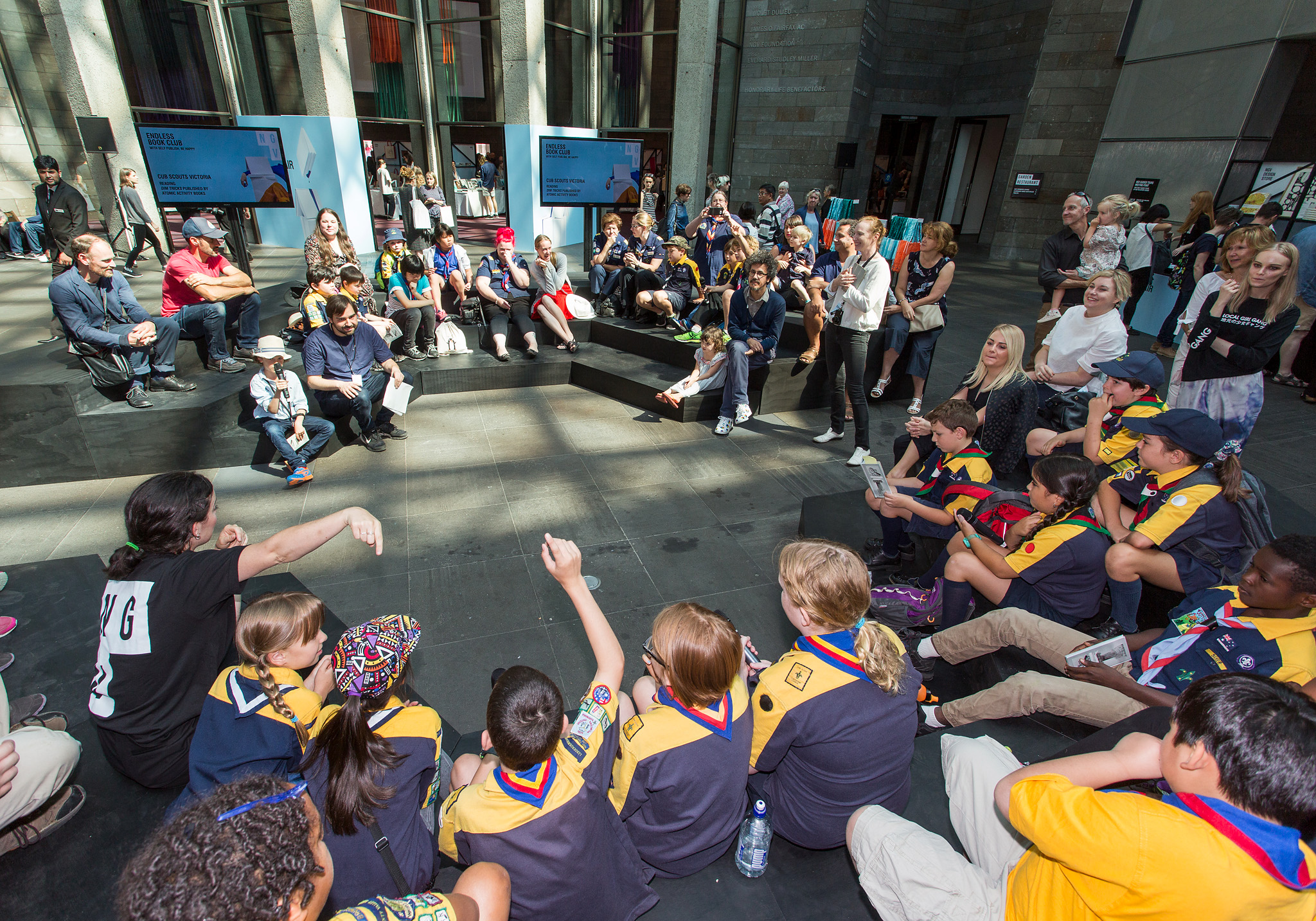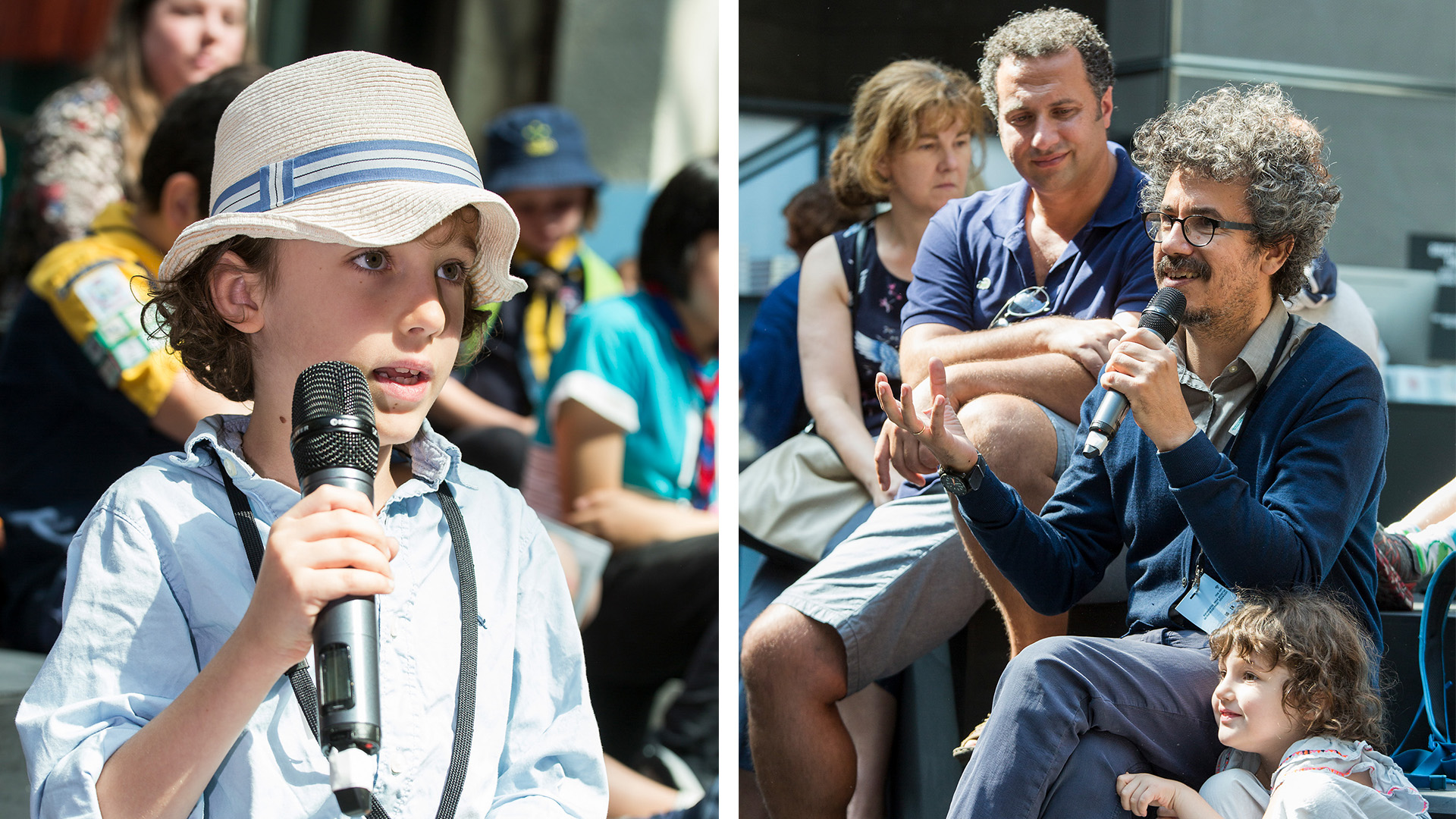 Self Publish, Be Happy presents a large-scale public book club across the Melbourne Art Book Fair 2017 in National Gallery of Victoria's Federation Court. Visitors can join local book groups of diverse backgrounds and interests – from cub scouts and birdwatchers to feminists and students – as they discuss art books, and collaborate in a literary conversation which seems truly endless.
HOURS AND LOCATION
Friday to Sunday, 17 – 19 March 2017
Friday 17th March 2017
12.00 to 12.45
Monash University Art History and Curating Students
discuss
KRASS Journal III
13.00 to 13.45
'Photo 2', Victorian College of the Arts, University of Melbourne Photography Students
discuss
Blue Sky Roam, Michael Danischewski, published by Bloom, 2017
14.00 to 14.45
RMIT University, School of Art Students
discuss
Ryan Gander: Read Only, Kieran Long, published by Australian Centre for Contemporary Art (ACCA), 2015
15.00 to 15.45
Project Convince Jesse Successful (Casey, Tia, Claire, Jesse, Jacqui, Lisa), VCA
discuss
"Text / Life / Meaning", Marica Langton, excerpt from Brook Andrew: The Right to Offend is Scared published by NGV
Saturday 18th March 2017
12.00 to 12.45
Cub Scouts Victoria
discuss
Dim Tricks, Generated by Billy Rennekamp, published by Atomic Activity Books, 2011
13.00 to 13.45
Feminist Babes Book Club
discuss
Christopher Day: New Reading Order, published by Negative Press, 2016
14.00 to 14.45
Birdwatching Melbourne
discuss
In Most Tides an Island, Nicholas Muellner, published by Self Publish Be Happy, 2017
15.00 to 15.45
KRASS Journal's (Anti) Art School Club
discuss
Issue 1: Crap Fables for Zine Table, anonymous, self published, distributed by Sticky Institute
16.00 to 16.45
The Lifted Brow
discuss
Masculinity in MOTION Ramsay Burt published in Dissect Journal, Issue 3
Sunday 19th March 2017
12.00 to 12.45
This is Not a Book Club
discuss
Making Worlds: Art and Science Fiction, ed. Amelia Barikin and Helen Hughes, published by Surpllus
13.00 to 13.45
Level 87 Book Club
discuss
25 International Artists Who Have Made an Impact, published by NGV
14.00 to 14.45
MONOGRAPH
discuss
Filmme Fatales Issue #8: The Finale, ed. Brodie Lancaster, published by The Good Copy
15.00 to 15.45
UMSU People of Colour Department
discuss
Gordon Bennett: Be Polite, ed. Aileen Burns and Johan Lundh, published by Sternberg Press in partnership with Institute of Modern Art.
Free Entrance
Booking is not required