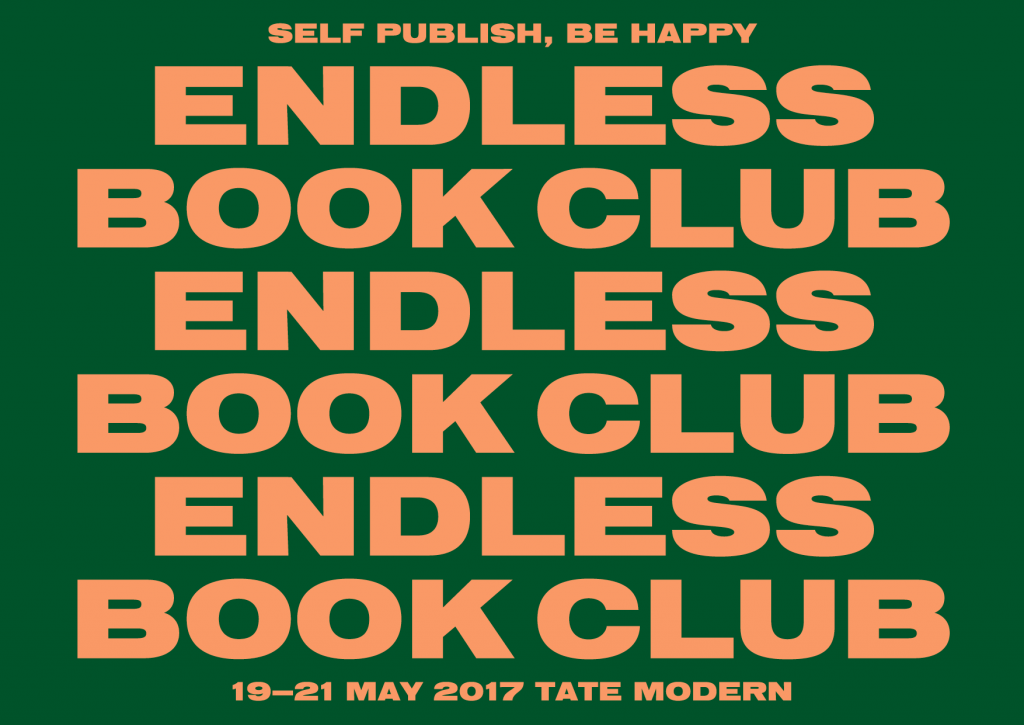 Self Publish, Be Happy is excited to present Endless Book Club at Tate Modern from Friday 19th to Sunday 21st May during Offprint London.
We will hold three days of public programming in conjunction with local book clubs and other organisations: from the Feminist Library, to the Institute of Psychoanalysis, to Hands Off our Revolution and beyond.
Endless Book Club is a large and socially diverse literary conversation, an open forum for the exchange of ideas, and a participatory performance for visitors and book-lovers alike in a welcoming arena setting.
HOURS AND LOCATION
Friday to Sunday, 19 – 21 May 2017
PROGRAMME

Friday 19th May 2017
19.00 to 19.45
The book club 'Woman in Photography' discusses Girl on Girl: Art and Photography in the Age of the Female Gaze by Charlotte Jansen (Laurence King 2017)
20.00 to 20.45
'Shonagh's Book Club' discusses Wako Book 5 by Wolfgang Tillmans (Wako Works of Art 2014)
Saturday 20th May 2017
16.00 to 16.45
The book club 'Feminist Library' discusses Women in Motion by Whitney Hubbs (Hesse Press 2017)
17.00 to 17.45
The book club 'The Royal College of Art MA Photography' discusses Incoming by Richard Mosse (Mack Books 2017)
18.00 to 18.45
'The Book Club With No Name' discusses Kenzo Folio (Kenzo 2017)
19.00 to 19.45
The collective 'Hands Off our Revolution' discusses Can Jokes Bring Down Governments? by Metahaven (Strelka Press 2017)
Sunday 21st May 2017
14.00 to 14.45
'The Institute of Psychoanalysis Book Club' is discussing My All by Sophie Calle (Actes Sud 2016)
15.00 to 15.45
'Bo's Book Club' discusses Tell Them I Said No by Martin Herbert (Sternberg Press 2016)
16.00 to 16.45
The collective 'Sunday Funday' responds to Harrodsburg by Dougie Wallace (Dewi Lewis Publishing 2016)
Free Entry
Space designed by M–L–XL with the support of Forterra
Endless Book Club is a collaboration between Self Publish, Be Happy and Tate, on the occasion of Offprint London, which is supported by LUMA Foundation.