Writer and photographer, Nicholas Muellner explores the relationship between text and image in photobooks. Starting from iconic and obscure examples from the history of literature, photography and journalism, Muellner addresses the forms and conventions of the image-text relationship as a source of inspiration and a point of departure or subversion.
Muellner considers his own process of writing, photographing and image-language synthesis, using his long form book projects, including The Amnesia Pavilions, In Most Tides an Island and The Photograph Commands Indifference as intimate case studies.
Nicholas Muellner is an artist who operates at the intersection of photography and writing. Through books, exhibitions and slide lectures, his projects investigate the limits of photography as a documentary pursuit and as an interface to literary, political and personal narratives. His five published books include Lacuna Park: Essays and Other Adventures in Photography, The Amnesia Pavilions and In Most Tides an Island, which was shortlisted for the Aperture/Paris Photo Photobook of the Year. In addition to solo exhibitions in the US and Europe, his writings have been published by MACK, Aperture, Afterimage, Triple Canopy, Art Journal and Routledge. Muellner has performed slide lectures internationally, including at MoMA P.S.1, Carnegie Museum of Art, the Photographers Gallery, and the Museum of Contemporary Photography. His work has been supported by the 2018 Guggenheim Fellowship in Photography, the John Gutmann Fellowship and residencies at the MacDowell and Yaddo Colonies, among others. Muellner received a BA in comparative literature from Yale University and an MFA in Photography from Temple University. He is associate professor and co-director of the Image Text MFA and Press at Ithaca College.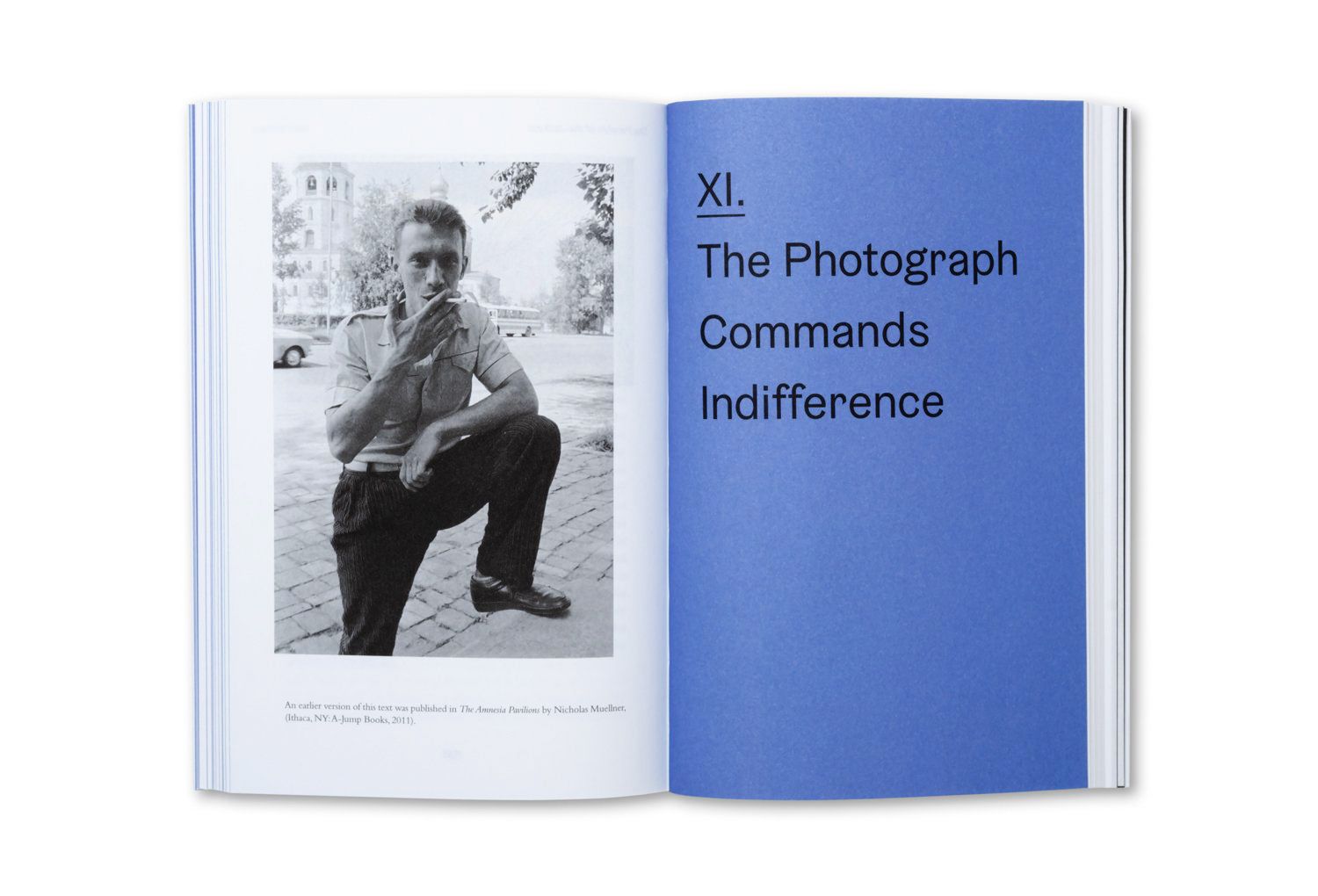 Topics covered in class:
A – References
I. General Reference Points:
Ulises Carrión, The New Art of Making Books, 1975
Tabu, film by Miguel Gomes, 2012
II. Historical References
Julia Margaret Cameron & Alfred Lord Tennyson – Idylls of the Kings (1875)
Lewis Hine – The Pittsburgh Survey (1907)
Margaret Bourke White & Erskine Caldwell – You Have Seen Their Faces (1939)
James Agee & Walker Evans – Let us now Praise Famous Men (1941)
Roy DeCarava & Langston Hughes – Sweet Flypaper of Life (1955)
Victor Burgin – UK '76 & US '77
Adrien Piper – Mythic Being (1973-75)
Adrien Piper – Everything #2.8 (2003)
III. Contemporary References
Jason Livingston and Vanessa Roveto – Women Hold Up Half the Sky (2013)
Antoine Wilson – Slow Paparazzo (Spaces Corners, 2012)
Olaf Nicolai & Jan Wenzel – 4 Times Through the Labyrinth (Spector Books, 2013)
W. G. Sebald – Austerlitz (2001) and Vertigo (1990).
Carolina E. Santo & Véronique Hoegger – Buchs (Patrick Frey, 2012)
Bertrand Fleuret – The Cliffs (J&L Books, 2012)
Anouk Kruithof – A Head With Wings. (Little Brown Mushroom, 2011)
Laure Prouvost – The Artist Book (Bookworks, 2013)
B – Case Studies
I. Referenced image-text books by Nicholas Muellner:
Moscow Plastic Arts (Arcadia University Art Gallery and A-Jump Books, 2006)
The Photograph Commands Indifference (A-Jump Books, 2009)
The Amnesia Pavilions (A-Jump Books, 2011)
In Most Tides an Island (SPBH Editions, 2017)
Lacuna Park: Essays and Other Adventures in Photography (SPBH Editions, 2019)
II. Referenced image-text books published by Image Text Ithaca Press
(Nicholas Muellner and Catherine Taylor, Editors)
Andre Bradley – Dark Archives, 2015
John Keene and Nicholas Muellner – Grind, 2016
Jo Ann Walters, Emma Kemp and Laura Wexler – Wood River Blue Pool Cecilia, 2018