Artist and writer, Carmen Winant delivers a masterclass on the nexus of feminism and contemporary photography. Contending in her own work with the potential of images to celebrate and problematize the terms of women's liberation, Winant asks: what is the shape of contemporary feminism? In what ways can photography act in service of and complicate its (sometimes contradictory) 21st-century mission? By looking closely at writers like Sara Ahmed, bell hooks, and Tithi Bhattacharya, as well as photographers including Justine Kurland, Cauleen Smith, A.L. Steiner, Erin Jane Nelson and Nicole Miller, Winant discusses her own evolving feminism, and propose strategies for giving consciousness physical form.
Carmen Winant is the Roy Lichtenstein Endowed Chair of Studio Art at Ohio State University and a 2019 Guggenheim Fellow in photography. Winant collects found photographs, which she uses tolook closely at feminist modes of survival, revolt, and innermost feeling. Her books include Notes on Fundamental Joy (Printed Matter, 2019), My Birth (Image Text Ithaca Press and SPBH Editions, 2018), and My Life as a Man (Horses Think Press, 2015); her recent projects have been shown at the Museum of Modern Art, Sculpture Center, Columbus Museum of Art, and the Wexner Center of the Arts.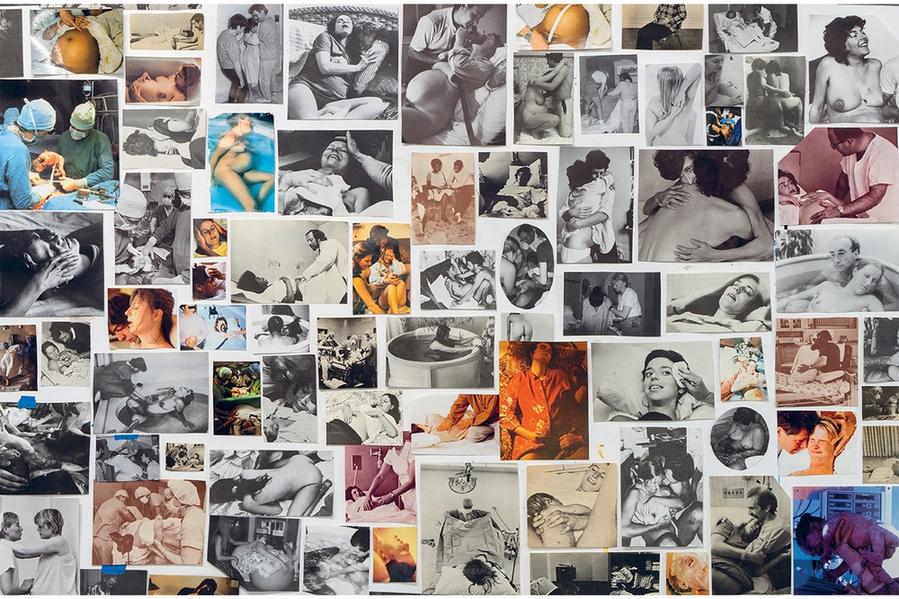 Topics covered in class:
A – Definitions of Feminism
I. Books
Carmen Winant – My Birth (SPBH Editions and ITI Press, 2017)
Carmen Winant – Notes on Fundamental Joy; seeking the elimination of oppression through the social and political transformation of the patriarchy that otherwise threatens to bury us (Printed Matter, 2019)
Bell Hooks – Feminism Is For Everybody. Passionate Politics. (Routledge, 2014).
Sara Ahmed – Living a Feminist Life. (Zubaan, 2019).
Cinzia Arruzza, Tithi Bhattacharya and Nancy Fraser – Feminism for the 99%. (Verso Books, 2019).
Alice Walker – In Search of Our Mothers' Gardens. (Harcourt Brace Jovanovich, 1983).
Audre Lorde – Sister Outsider: Essays and Speeches. (Penguin Vitae, 2020).
Cherríe Moraga and Gloria Anzaldúa (eds.) – This Bridge Called My Back: Writings by Radical Women of Color. (Kitchen Table: Woman of Colour Press, 1983).
Adrienne Rich – Of Woman Born, Motherhood as Experience and Institution. (W. W. Norton & Company, 1974).
Barbara Smith – Home Girls: A Black Feminist Anthology. (Kitchen Table: Woman of Colour Press, 1983).
Toni Cade Bambara – The Black Woman: An Anthology. (Signet, 1970).
Gloria T. Hull, Patricia Bell Scott and Barbara Smith (eds.) – But Some of Us Are Brave. 2nd edition. (The Feminist Press, 2015).
Germaine Greer – The Female Eunuch. (McGraw-Hill, 1971).
Norman Mailer -The Prisoner of Sex. (Littlehampton Book Services, 1971).
Jill Johnston – Lesbian Nation: The Feminist Solution. (Simon & Schuster, 1974)
Amelia Jones – Body Art/Performing the Subject. (University of Minnesota Press, 1998).
II. Article/Magazines
Carmen Winant – The Meaningful Disappearance of Germaine Greer: The contributions and contradictions of a feminist icon (Cabinet Magazine, Issue 57, 2015).
Carmen Winant – Our Bodies, Online. (Aperture, Issue 225, 2016).
III. Films
Town Bloody Hall: A Dialogue on Women's Liberation (Pennebaker Hegedus Films, 1979).
IIII. Artists
Hannah Black
Sondra Perry
Petra Collins
Catherine Opie
Lynn Hershman Leeson
Anne Collier
Lorraine O'Grady
The Wooster Group
Mayan Toledano
Amalia Ulman
B – 2nd Wave: Feminism and Photography of the Mid-Late Late Century
I. Books
JEB – Eye to Eye: Portraits of Lesbians. (Glad Hag, 1979).
Amelia Jones – Body Art/Performing the Subject. (University of Minnesota Press, 1998).
Donna Ferrato – Living with the Enemy. (Aperture, 2004).
II. Events
What Makes Contemporary Photography Feminist and Queer? (MoMA, 2017).
III. Artists
JEB (Joan E. Biren)
Lenn Keller
Tee A. Corinne
Honey Lee Cottrell
Carol Osmer Newhouse
Adrian Piper
Janice Guy
Sue Ford
Nan Goldin
Suzanne Lacy
Mierle Laderman Ukeles
Valie Export
Ana Mendieta
Annie Sprinkle
Gina Pane
Carolee Schneemann
Patty Chang
Jo Spence
C – 21st Century Vanguard Shifts: What is the Shape of Contemporary Feminism?
I. Artists
Erin Jane Nelson
A.L. Steiner
Sharon Hayes
Deana Lawson
Farah Al Qasimi
Cauleen Smith
II. Exhibitions
Erin Jane Nelson: Warm Circle, Hard Shield. Art Basel – Chapter NY, New York (2019).
Sharon Hayes, 'In My Little Corner of the World, Anyone Would Love You' – The Common Guild, Glasgow (2016).
Cauleen Smith, Give It or Leave It – Institute of Contemporary Art, University of Pennsylvania (2018).