How are contemporary photographers from Africa reimagining their continent and its people? In this masterclass, writer and curator Ekow Eshun explores the work of a new wave of African photographers who are capturing the experience of what it means, and how it feels, to live in Africa today, in the process revealing the continent as a psychological space as much as a geographical territory.
As a medium, photography has played a significant role in shaping Western views of Africa. Ethnographic-style imagery of the colonial period presented Africans as the primitive denizens of a dark continent. Modern news reports still often portray the continent as a place of corruption and disease. But today an emergent generation of photographers is looking both outward and inward: capturing life among the sprawling cities and multitudinous conurbations of the continent, turning the legacy of the continent's history into the source of resonant new myths and dreamscapes, and exploring questions of gender, sexuality and identity.
Eshun traces the evolution of photography in Africa through the work of early 20th-century pioneers, modern masters like Malick Sidibe and Samuel Fosso and leading contemporary figures including Zanele Muholi, Hassan Hajjaj, Omar Victor Diop, Andrew Esiebo and Kiluanji Kia Henda.
Ekow Eshun is a writer and curator. He is Chairman of the Fourth Plinth Commissioning Group, overseeing the most prestigious public art programme in the UK, and the former Director of the ICA, London. He is the author of Africa State of Mind: Contemporary Photography Reimagines a Continent (Thames & Hudson) and Black Gold of the Sun (Penguin), which was nominated for the Orwell Prize.
He has contributed to several books including Masculinities: Liberation Through Photography (Barbican); Linda McCartney: The Polaroid Diaries (Taschen), Between Worlds (National Portrait Gallery); Seen: Black Style UK (Booth Clibborn), as well as monographs on the work of Chris Ofili, Kehinde Wiley, John Akomfrah and Duro Olowu. Eshun's writing has appeared in publications including the New York Times, Financial Times, The Guardian, The Observer, Granta, Esquire, GQ Style, Aperture, Wired and L'uomo Vogue. He is the recipient of an honorary doctorate from London Metropolitan University. His recent exhibitions as a curator include Masculinities: Liberation Through Photography (Barbican) as adjunct curator; Africa State of Mind (NAE, Nottingham; MOAD SF); Made You Look: Dandyism and Black Masculinity (The Photographer's Gallery, London); Hassan Hajjaj: The Path (Arnolfini, Bristol); and Kaleidoscope: Immigration and Modern Britain (Somerset House, London).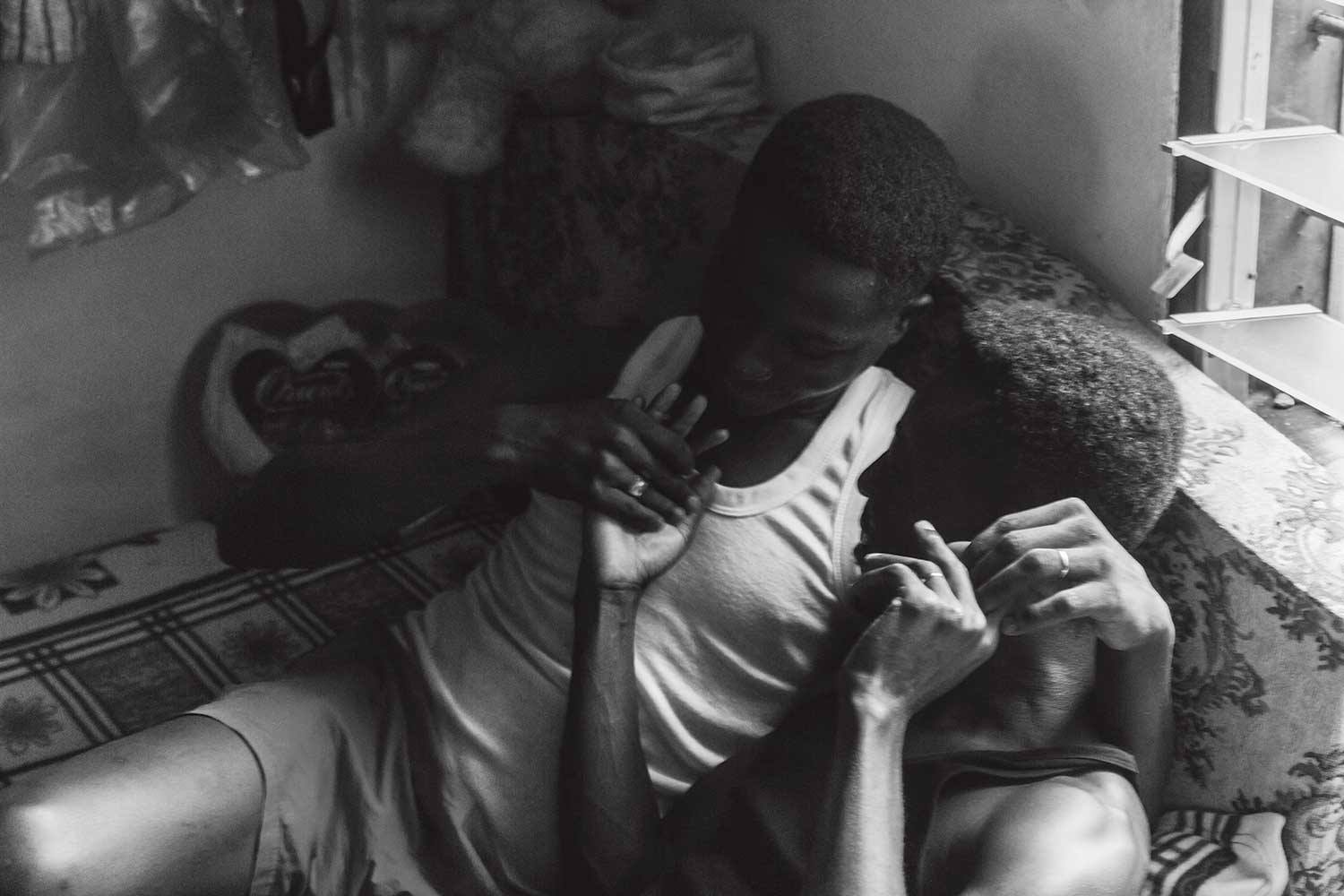 © Eric Gyamfi, Nana and Razak, 2016
Topics covered in class:
A – What is Africa?
I. Books/Articles/Magazines
Salah M. Hassan – African Modernism: Beyond Alternative Modernities Discourse (South Atlantic Quarterly, Volume 109, Issue 3, 2010).
Richard Henry Stone – In Africa's Forest and Jungle: Six Years Among the Yorubas (The University of Alabama Press, 2010).
Kobena Mercer – Welcome to the Jungle: New Positions in Black Cultural Studies (Psychology Press, 1994).
Alex Haley – Ebony Magazine (July 1997).
Ekow Eshun – Black Gold of the Sun: Searching for Home in Africa and Beyond (Vintage, 2007).
Saidiya Hartman – Lose Your Mother: A Journey Along the Atlantic Slave Route (Farrar Straus Giroux, 2008).
Caryl Phillips – The Atlantic Sound (Alfred Knopf, 2000).
Okwui Enwezor (ed.) – The Short Century: Independence and Liberation Movements in Africa 1945-1994 (Prestel Verlag, 2001).
Achille Mbembe
II. Film/TV
King Solomon's Mines, dir Robert Stevenson (1937).
The Legend of Tarzan, dir David Yates (2016).
Roots, Wolper Productions (1977).
III. Images
J. Barnett and Co.: Young Xosa [Xhosa] Woman in Costume; Wood Bowls and Gourd Container Nearby (n.d.)
Kevin Carter, Starving Child and Vulture (1993)
IV. Poems
Heritage, Countee Cullen
B – Africa is a state of mind
I. Artists
Five Men, Lutterodt and Son Studio, ca 1880-85
Photographs by Chief S.O. Alonge, c. 1942 – 1966
Seydou Keita
Malick Sidibé
Samuel Fosso
Rotimi Fani-Kayode
Zanele Muholi
Eric Gyamfi
Sabelo Mlangeni
Ruth Ossai
Hassan Hajjaj
Mimi Cherono Ng'ok
Sammy Baloji & Filip De Boeck
Nyaba Leon Ouedraogo
Michael Tsegaye
Hicham Gardaf
Michael MacGarry
Andrew Esiebo
Athi-Patra Ruga
Lina Iris Viktor
Kiluanji Kia Henda
Emmanuelle Andrianjafy
Guillaume Bonn
Kader Attia