Art historian and curator Drew Sawyer presents a masterclass on the intersections of queerness and contemporary photography. How did photography help shape LGBT subjectivities and communities during the "gay liberation movement" of the 1960s and 1970? Subsequently, how have queerness and photography troubled our understanding of gender and sexuality? What does queer mean in the 21st century, and how can photography advance its aims?
Sawyer considers the writings of Judith Butler, Cathy J. Cohen, Michel Foucault and David Getsy, along with the photographic work of artists including Paul Mpagi Sepuya, A.L. Steiner, and Carrie Yamaoka.
Drew Sawyer is an art historian and a curator, and the Phillip Leonian and Edith Rosenbaum Leonian Curator at the Brooklyn Museum. His recent exhibitions include Isaac Julien: Looking for Langston (2018), Garry Winogrand: Color (2019), Liz Johnson Artur: Dusha (2019), and Art after Stonewall, 1969-1989 (2019), for which he and his co-curators received the Association of Art Museum Curators' Award for Excellence. He is a contributor to Aperture, Artforum, Mousse, and OSMOS, and has written on the works of Darrel Ellis, Buck Ellison, Elle Pérez, and Allan Sekula. He holds a PhD in Art History and Archaeology from Columbia University.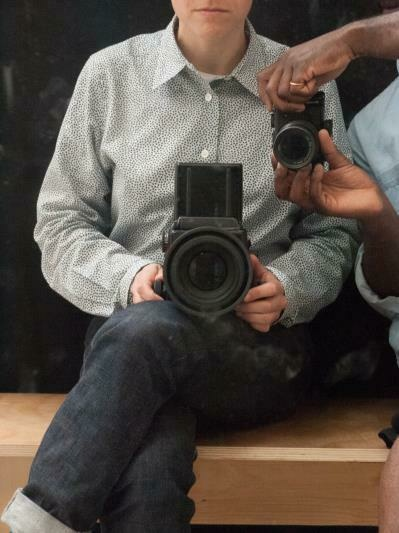 ©  Paul Mpagi Sepuya, Ariel Goldberg, Camera Lesson (_2210485), 2018
Topics covered in class:
I. Books/Essays/Magazines
Benjamin Wolbergs – New Queer Photography (Verlag Kettler, 2020).
Gay Power – Volume 1, Number 16 (1970).
JEB – Eye to Eye: Portraits of Lesbians (Glad Hag, 1979).
Ann Novotny – Alice's World: The Life and Photography of an American Original, Alice Austen, 1866-1952 (Chatham Press, 1976).
The Blatant Image: A Magazine of Feminist Photography, No. 2, 1982. (The Blatant Image, 1982).
Audre Lorde – Uses of the Erotic (1978).
Barbara Hammer – The Politics of Abstraction in Hammer!: Making Movies Out of Life and Sex (Feminist Press, 2009, p200-202).
Queers Read This – Published anonymously by Queers.
Michel Foucault – The History of Sexuality. Volume I: An Introduction (Pantheon, 1978).
Eve Kosofsky Sedgwick – Epistemology of the Closet (University of California Press, 1992).
Judith Butler – Gender Trouble: Feminism and the Subversion of Identity (Routledge, 1990).
Michael Warner (ed) – Fear of a Queer Planet. (University of Minnesota Press, 1993).
Deborah Bright – The Passionate Camera: Photography and Bodies of Desire (Routledge, 1998).
Susan Sontag – On Photography (Penguin, 1979).
Roland Barthes – Camera Lucida: Reflections on Photography (Vintage Classics, 1993).
José Esteban Muñoz – Disidentifications: Queers of Color and the Performance of Politics (University Of Minnesota Press, 1999).
José Esteban Muñoz – Ephemera as Evidence: Introductory Notes to Queer Acts, Women & Performance: a journal of feminist theory, Volume 8, Issue 2 (1996).
José Esteban Muñoz – Cruising Utopia: The Then and There of Queer Futurity (NYU Press, 2009).
Ariel Goldberg – The Estrangement Principle (Nightboat Books, 2017).
David Getsy (ed.) – Queer (MIT Press, 2016).
Reina Gossett, Eric A. Stanley and Johanna Burton (eds.) – Trap Door: Trans Cultural Production and the politics of Visibility (MIT Press, 2017).
Joey Terrill – Homeboy Beautiful, Issue 1. (Self-published, 1978).
GB Jones and Bruce La Bruce – J.D.s #2 (1985).
Fertile La Toyah – Jackson Magazine, issue no. 1 (1982).
Camilo Godoy – AMIGXS, No. 1 (2017).
Legacy Russell – Glitch Feminism: A Manifesto (Verso, 2020).
Efrem Zelony-Mindell – Newflesh (Gnomic Book, 2019).
II. Artists
Fred McDarrah
Peter Hujar
Diana Davies
John Button and Mario Dubsky
Leonard Fink, Marsha P. Johnson, Sylvia Rivera and members of STAR at the 1973 CSLD march
Pat R. Chin, Harriet Alston and Shirley Gaven
JEB (Joan E. Biren)
Alice Austen
Tee Corinne
Happy Hyder
Honey Lee Cottrell
Nan Goldin
Jimmy DeSana
Darrel Ellis
Lola Flash
Gran Fury
Deborah Bright
Lyle Ashton Harris
Buck Ellison
Martine Gutierrez
D'Angelo Lovell Williams
Naima Green
Catherine Opie
Dyke Teck
Zoe Leonard
Paul Mpagi Sepuya
Rotimi Fani-Kayode
A.L. Steiner
Zackary Drucker and A.L. Steiner
Zackary Drucker and Rhys Ernst
Zach Blas
Shawné Michaelain Holloway
fierce pussy
Carrie Yamaoka
Joy Episalla
Mark McKnight
Laura Aguilar
Elle Pérez
Willa Nasatir
Sara Ahmed
Johanna Breiding
Isaac Julien
Glenn Ligon
Fred Wilson
Chris E. Vargas
LJ Roberts
Kang Seung Lee
III. Exhibitions
Art after Stonewall – Columbus Museum of Art, Columbus (2020).
Lyle Ashton Harris: The Good Life – Jack Tilton Gallery, New York (1994).
Trigger: Gender as a Tool and a Weapon – New Museum, New York (2018).
David Gilbert: House & Garden – Klaus von Nichtssagend Gallery (2018).
Nobody Promised You Tomorrow: Art 50 Years After Stonewall – Brooklyn Museum, New York (2019).